7 No-mess Alternatives to Traditional Pumpkin Carving for This Halloween
It's almost time for Halloween, and you know what that means, it's pumpkin carving time! But who the heck wants to deal with all that mess?
Pumpkin carving is a fun pastime and a great way to get everyone's creative juices flowing. But egads, the mess and the time it takes to prep and clean up after the carving begins can be a total bummer. And, who wants their kid handling a drill bit in the hopes of creating a jack-o-lantern?
Not the drill bit again.
Hardly anything's as frightening as making your deductible on Halloween night. So, in the spirit of Halloween, we've got several nifty pumpkin decorating ideas for you to check out. Best of all, none of them require a drill bit, and most don't even need you to wield a knife. These ideas are perfect for kids of all ages, but they're especially ideal for younger children. Chances are, you've already got a lot of the supplies needed at home. Check 'em out!
Paint the Pumpkins
All right, painting can get messy. But its way safer than carving. Instead of using a knife to give your pumpkin a worthy grimace, use some finger paint instead. You can use tape to create designs on the pumpkin, and paint around and over the tape. Once the paint is dry, simply remove the tape, and you've got yourself a prize-worthy pumpkin for cheap and easy.
Another cool idea is doing a drip design on the pumpkin. You'll want to use acrylic paint here because it's a thicker paint that also dries pretty fast. Plus, you can get acrylic paints in easy, squeezable tubes. All you have to do is squeeze the paint out over the top of the pumpkin, and let it drip down and dry.
Pumpkin Mummies
These adorable critters are super easy to make and will have everyone laughing come trick-or-treat time. All you need is a gauze roll, googly eyes, black felt or construction paper, and hot glue.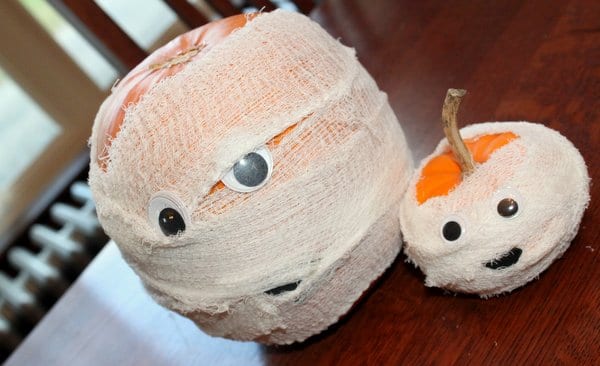 Decorate with Felt
Create felt features for your pumpkins and glue them onto the pumpkins. For appendages, wrap the felt in a toothpick, glue it together, then stick it into the pumpkin. No knives, no missing limbs, no mess.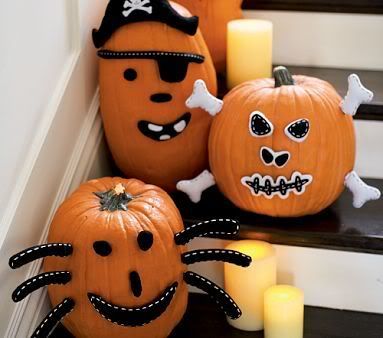 Playdoh
Use playdoh to create features and hats for the pumpkins. The more you manipulate the playdoh, the better it will stick. You can use all different colors, and the kids will have fun coming up with different expressions for the pumpkins.
Pumpkin Collage
Consider cutting out things like eyes, noses, and mouths from some old magazines you've got laying around. The kids can create funny pumpkin collages. Use hot glue to hold everything together.
Bling
Who doesn't love a sparkly pumpkin? You can use regular glue or spray adhesive to get glitter to stick. Feathers, buttons, craft jewels and the like can all be used to give the pumpkin some pizzazz.
Tissue Paper Pumpkins
You'll need a spray adhesive or Modge Podge for this project, tissue paper, and something to trace the circles with. A roll of tape or a small glass can work. Trace circles on the tissue paper, cut them out, spray down the pumpkin, and glue on the circles. It's super easy, and your child can come up with some cool color schemes to brighten up an otherwise boring gourd.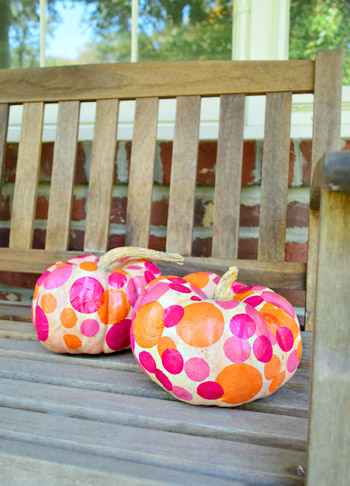 Getting the pumpkins ready for Halloween doesn't have to be a messy or potentially dangerous affair. Have the kids put on their creative thinkin' caps and look around the house for some unconventional pumpkin decorating items.
Have you and the kids carved or decorated any pumpkins yet this year? Send us in your designs! We'd love to feature them on our Facebook page.
Leave a Reply